From July 4th to 14th, 42 participants, with 19 from the Nordic countries and 23 from Asia, together with 18 lecturers and speakers, joined the first Nansen East-West Dialogue Academy (NEWDAY) at Nansen Academy, Lillehammer, Norway. NEWDAY was initiated and co-organized by the Fudan-European Centre for China Studies, Nordic Institute of Asian Studies (NIAS), and Nansen Academy.
Aiming to promote mutual understanding and foster harmonious relations between people East and West and between our future leaders, participants were brought together to engage in dialogues, debates, workshops, and lectures through the competent guidance of high profile guest speakers and lecturers, including a broad range of international scholars from a variety of disciplines, people from NIAS and the Fudan Centre, and many others.
The topics discussed included some of the pressing challenges of today's world such as the Korean Peninsula, new media and political populism, and climate change, as well as other topics such as education, the Nordic model, and cross-cultural communication. Furthermore, the program featured a number of excursions and artistic performances.
The program was structured as below:
Day 1: Introduction
Day 2: Grand Challenges
Day 3: Cross-Cultural Understanding
Day 4: Traditional and New Media
Day 5: Animosities in International Politics
Day 6 & 7: Green Agenda in a Good Society (a two day excursion)
Day 8: Science, Education and Society
Day 9: Memory and Identity
Day 10: Unity with Diversity
The Fudan Centre felt privileged to take part in facilitating the first NEWDAY summer course. NEWDAY was supported by a range of scholars from institutions in the East Asian region, specifically Fudan University, Tsinghua University and Shandong University in China; Kyoto University and Tokai University in Japan; and Yonsei University and Korea University in Korea. In the Nordic region, NIAS - Nordic Institute of Asian Studies at the University of Copenhagen representing a consortium of 27 Nordic universities, was the leading coordinator of the project, together with the Nansen Academy.
NEWDAY was funded by the Nordic Council of Ministers (NCM), the Fudan-European Centre for China Studies, and the Nansen Academy with support from the Trilateral Cooperation Secretariat (TCS).
For more information on NEWDAY, please go to NEWDAY's official website.
Read a full report of the NEWDAY summer course 2017 here.
NEWDAY 2017 speakers
Professor, Associate Vice President, Fudan University
President of Korea University
MP, Norway and President of the Norwegian Parliament
Head of Sustainability Science Centre, University of Copenhagen
Associate Professor, Yonsei University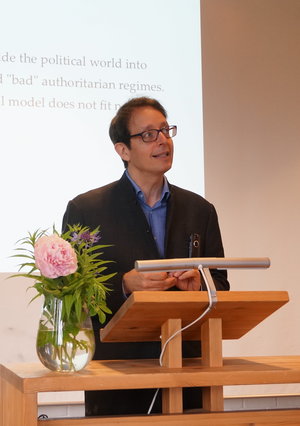 Professor, Tsinghua University, and Dean, Shandong University
Professor, Science Education, University of Oslo
Professor, Head of International Studies, Washington University, St. Louis
Freelance journalist and teacher in peace education programmes, Oslo
International Advisor Oppland County, Deputy Mayor, Lillehammer
Author, journalist, Head of Borup Folk High School, Copenhagen
Associate Professor, Chinese Philosophy, University of Copenhagen
Professor, Political Sociology, Copenhagen Business School
Professor of Journalism, Fudan University
Director, Nordic Institute of Asian Studies
Executive Vice Director, Fudan-European Centre for China Studies
Author and former Head of Nansen Academy